Modeling Agencies in Spain ⋅
3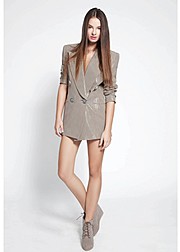 Barcelona
› Gran de Gràcia 137
Es una agencia de modelos profesional, creada para acercarte y facilitarte el contacto más cercano con quien forma parte del mundo de la moda, especialmente para campañas publicitarias, spots de televisión, editoriales, catálogos, showrooms, fittings, desfiles... Con una larga exper..
Barcelona
› Rambla Catalunya, 15 1º2ª
En 1975 Salvador Huguet, modelo y actor fundó una agencia pionera en Barcelona que pronto se convirtió en una referencia nacional e internacional en el sector. En 2008 Ángel Herrera con una larga trayectoria dentro de la empresa y el sector, tomó la propiedad y dirección de Salvador..
Modeling Agencies located in Spain with open casting calls. Models fitting the agency requirements can join for work opportunities. Modeling Agencies undertake the job to provide client businesses with models for their campaign. The campaign could be print, tv or public relations. Additionally they can provide the models for promotional events and runway shows. Most agencies undertake themselves the production of print campaigns and some films. They offer exclusive or non-exclusive management and typically take a commission out of the model's fee. Model agencies can also employ creative artists such as photographers, makeup, hair and fashion stylists need for their productions.